BodyWear Special (Item#:chestpantyspcl)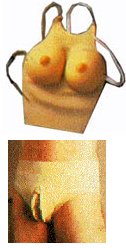 BodyWear Special (Item#:chestpantyspcl)
Treasure Chest and Pussy Panty -Originally $69.99 EACH now get BOTH for practically the price of one! One size fits all. MADE IN THE USA.
New Improved, Strap-On, Foam-Filled "Treasure Chest" and Latex Panty Bodywear. One size pull-on with realistic vagina. Changes your entire appearance with a soft pliable real latex torso. Easy to put on, light, comfortable and washable.

While supplies last. Shipping charges not included in above price.
ALL SALES FINAL ON THIS ITEM