Masterbator Vagina Prosthesis (Item#:CS-MASTVSTRING)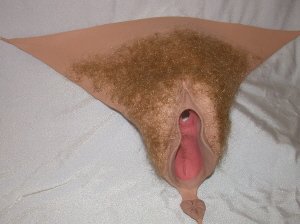 Masterbator Vagina Prosthesis (Item#:CS-MASTVSTRING)
Each vagina is custom-hand made to the specifications of the individual buyer. Finally, a Vee-String where the head of your penis is your Clitoris! You can masturbate as a girl and urinate with it on too!!! Gander through the pictures and view the movie clip to see what this new, innovative design can do for you! MADE IN THE USA.
We've always said, pictures are worth a thousand words. This product looks a lot like the others that have been available for many years, however, it is a totally new product. It has more space for the genitals, is softer to the touch and allows for easy vaginal penetration.
As with all of our products, the Masturbator Female Vagina Prosthesis is made of pure liquid latex rubber which is hand brushed into a mold with up to twelve coats for each of the custom made products. There are three different colors of tinted latex in each product. The hair is sewn on by hand and adhered to the back with liquid latex.
The Masturbator Female Vagina Prosthesis comes with an intact hymen. After it has been penetrated, the vaginal opening can be repaired with the latex sent with the product. So, you can masturbate, urinate, and be a virgin over and over again!!! What more can you want.
The Masturbator Female Vagina Prostheses will fit most. It is available in waist sizes from 30" to 48". The latex can be trimmed at the top and in the sides around the groin area for a better fit.
To prolong the life of these products, after wearing, clean thoroughly with soap and water, dry thoroughly overnight, powder and store in a cool, dark area. If the product is going to be worn for an extended period of time (over 3-4 hours), it is recommended that it be powdered with talcum powder periodically to keep it dry. The product should be cleaned after every use.
Since these products are made of 100% latex, only use a waterbase lubricant. Avoid use of petroleum-based lotions, solvents, soaps, make-up or food products such as oils or butters as these will cause the latex to deteriorate.
Due to the amount of latex in the products, they are durable, soft, and pliable. Regular & Clean Shaven Hairstyles are no additional charge. Hairstyles V-Shaped, Thin Line, Hairy and Trimmed are an additional $129.99. Due to the custom design for each individual person, it may take up to three weeks for delivery and there are no refunds for this product.
This is the Platinum Collection of Vaginas. Made in America.